At my

YALSA Symposium

presentation I told attendees that I would make sure to put up all of my Harry Potter Camp materials on the blog. I'd been meaning to it anyway, so this is a perfect opportunity to get my butt in gear. Instead of just dumping everything, I thought it might be helpful to do a series of posts on the various activities and link to them on the

Harry Potter Camp

tab that I've added on the main page. On that page you can also find some background info. and logistics about my camp.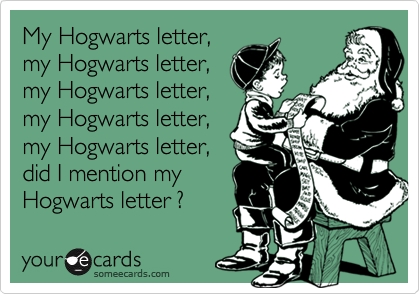 If the kids you know are anything like the kids I know, then one of their life goals is to get their Hogwarts letter. Heck, one of my life goals is to get a Hogwarts letter. This was something that I knew I had to do, even if it didn't really serve much of a practical purpose. And even though I only sent mine via email to the campers (through their parents who had registered them for camp), my kids were absolutely tickled to receive them. I got a bunch of responses back from parents who shared that they printed the letters and gave them to their kids and others who just shared how excited it made their kids and thanked me for including this small but important element.
And it's so easy to do! All you need is the text (taken from the book, with edits and/or additions to suit your needs) and a cool font. If you're fancy, you can even print out the letters on parchment paper and distribute them beforehand. There are a bunch of Harry Potter-style fonts freely available on the web. Just Google "Harry Potter font" and take your pick. Download the font and you're ready to go. Here's the letter I sent.
So quick and easy to do. So appreciated by the kids!
The LibrariYAn is an Amazon Associate. If you click from links on this blog to Amazon and buy something (anything!), I receive a small percentage of the purchase price.